Sharing Our Pride
Published: Wednesday 15th Jun 2022
Written by: Eliza Duckworth
To celebrate Pride Month 2022, we asked our colleagues to what Pride means to them – who are their LGBTQ+ heroes?  
We also asked our staff to share some recommendations of Pride events and LGBT+ businesses, because at Original Cottages, being truly local and supporting small businesses and local events is an integral part of what we do.  Read on to find out more about how our colleagues celebrate Pride and to discover some LGBTQ+ gems across England and Wales. 
What does Pride mean to us? 
We opened an anonymous survey to our staff and asked them, as either members of the LGBT+ community or allies, how the Pride movement has impacted them. Here's what people said when we asked, 'what does Pride mean to you?' 
"It's a total celebration of diversity and inclusivity. Open mindedness! Just enjoying people and their company however we choose to define ourselves" 
"Celebrating people from all walks of life and allowing them to express themselves freely without judgement."
"I am not personally part of the LGBT+ community but believe that it is incredibly important. People should have the freedom to be themselves with no judgement and that's what it's all about really!" 
"Pride means a lot. I personally feel free to be myself, that I am accepted by the majority in society, that I am allowed to be me without shame and to be confident in myself. I feel safe." 
"We march for those who can't." 
"Taking pride in individuality and love" 
"Fairness and inclusion" 
"To me Pride is the hope that one day we will no longer label people by gender, sexuality, or titles. Where the wider community realises that gender is not binary. Where there is understanding that sexuality can also be fluid. Where there is acceptance that all people are equal. Where we can imagine a whole community as filled with love and joy as a pride parade." 
"Community. The LGBTQ+ community is one of the only places I feel like I don't have to constantly defend and explain my sexuality to others. Having LGBT+ friends and close family members, the culture that has formed from the community is a way for us to connect and bond, as well as to learn more about the experiences of others." 
"Being proud of who you are, and proud of others for who they are. Embracing differences and understanding that we are a combination of the small things that make us 'us'. Acceptance of all those parts, however significant or insignificant they feel to us. Standing against pressure to be like everyone else or fit into easily digestible boxes. Don't go changing!" 
"Pride began as a protest but has changed considerably over time. However, it is still so very important. Homophobic and transphobic attacks and abuse are on the rise once again. There are still many places in the world where it is illegal to love whoever you fall in love with. One day, hopefully, it won't matter if you're gay, straight, bi-sexual... there won't be an assumption that you are heterosexual until told otherwise. "Who do you love?" rather than "are you gay?"." 
All these fantastic responses help show just how inspirational Pride has been for so many people, and how important it is to take pride in who we are every day.
Our LGBT+ heroes
A large aspect of the Pride movement has been trying to increase visibility of LGBTQ+ people in society and culture, so we also asked our colleagues who some of their LGBTQ+ heroes are. People who have helped champion the rights of the community, or those who have simply made the world a better place by being who they are and being accepted for it.  
Jack Monroe 
Christine and the Queens 
Hayley Williams 
RuPaul 
Mae Martin 
Oscar Wilde 
James Baldwin 
Shon Faye  
Alan Turing 
Frankie Howerd 
Freddie Mercury  
Olly Alexander  
Our Pride Festival recommendations
A huge part of celebrating Pride are Pride parades and festivals that take place all over the globe, all year round. Now the biggest Pride event may be held in Brazil, where an estimated 2.5 million people attend the Sao Paulo Gay Pride Parade every year, but the UK offers some pretty spectacular Pride events too.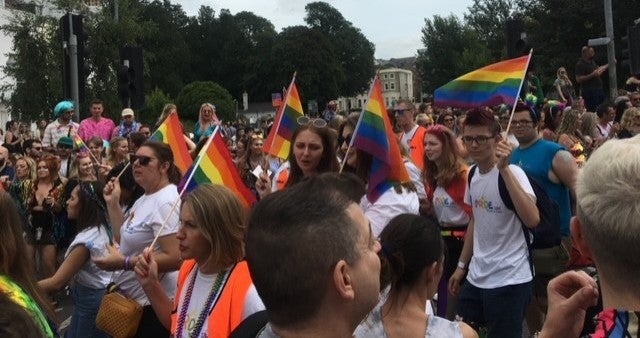 Some of our favourite local LGBT+ run businesses  
With staff spread across England and Wales, we love sharing our recommendations of things to do, places to eat, walks and local businesses with each other and with our customers. For this blog, we've put a Pride spin on things by asking our staff to recommend some LGBT+ run businesses in their local communities, which may be near you or near your next holiday destination! 
Recommended by Kate from our marketing and imagery team, Siop Lyfrau Trefaldwyn in Montgomery is an independent bookshop that has been recognised for its championing of the Welsh language, despite the owners being from Chorley originally. The owners are known locally as 'The Bookshop Boys' and have been very successful since they set up shop in 2018 – be sure to give them a visit if you're ever in Powys! 
Vintage Partyware are business hiring out props, decorations, games, furniture, and everything you might need for a party or wedding. We have previously had guests staying in our holiday cottages in Norfolk hire games for their stay with us and we highly recommend them for any special occasion! 
One for animal lovers, Holler are a luxury brand specialising in stylish dog ware. Selling everything from leads and beds, to toys and accessories, anyone with a fashion-conscious pooch should visit Holler if you find yourself in Brighton or the Sussex coast.  
We hope that this article has inspired you to check out some of the LGBTQ+ businesses and events that are happening across England and Wales this year. Carry on the conversation with us by letting us know how you're celebrating on our Instagram, @originalcottages – we'd love to hear from you!